Archifest
For
Singapore Institute of Architects
Scope
Events
Print Design
Web Design
Web Development

Brief
Archifest (Architectural Design Festival) is an annual festival for a city to celebrate the built environment. We design the identities for 2007 to 2012.
1 of 4.
Archifest 2007: Inaugural edition
This was a precursor for Singapore Architecture Biennale in 2010. The main aim is to promote the right conditions for the breeding of a vibrant design culture and therefore a design conscious society. Hence the brief was to create a strong identity for the inaugural festival.
Our design approach was to reach out to the everyday person, as design festivals usually attract only those who are in the industry. We wanted to get to the man on the street, hold him and shake him and tell him about Archifest, and to learn more about it! Short of doing that, we decided that the everyday idea of the humble notice board and hand-delivered flyers was suitable for disseminating information. After all, the built environment is something that affects us all.
Visit 2007 Website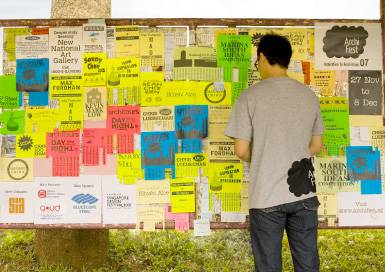 The main identity – Noticeboard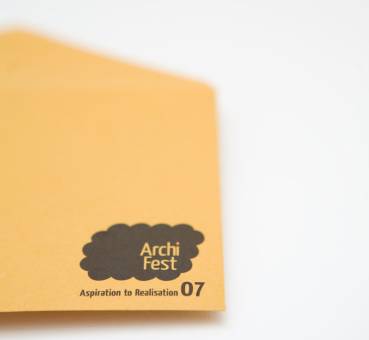 The idea behind the "Revision Cloud" logo was that many in the architectural field rely on the revision cloud on building plans to annotate something that needs to be changed. Hence, Archifest, as an event and as a concept embodied by its logo, should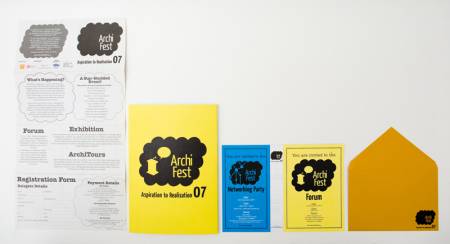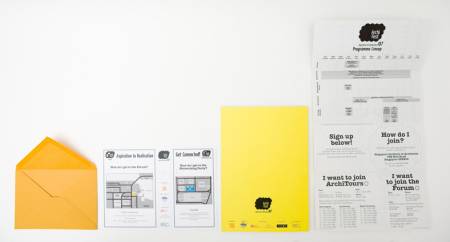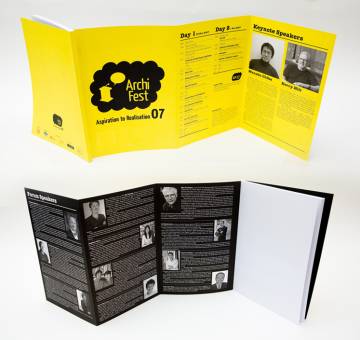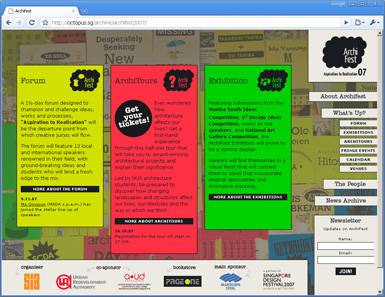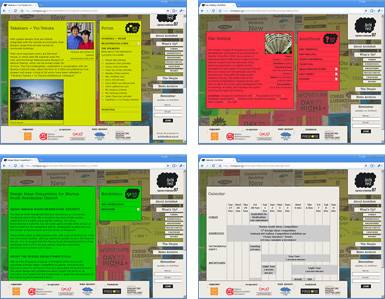 2 of 4.
Archifest 2009: Architecture for Humanity
Apart from the exhibitions, forums, tours and fringe events, a major portion of Archifest this year was the Photography Competition. The public was encouraged to pick up their cameras, and capture their own interpretation of the theme.
We used photography ourselves in our design for the identity and collaterals. Han was engaged to take photos island-wide with a simple brief: Capture as much sky + buildings as possible.
Visit 2009 Website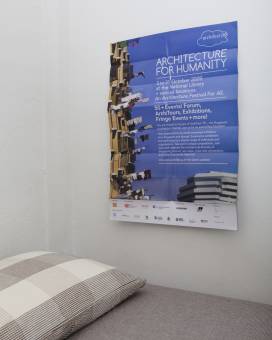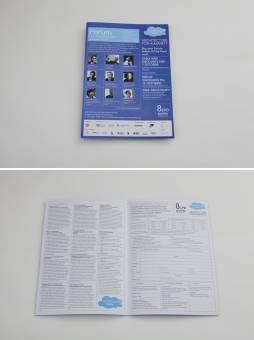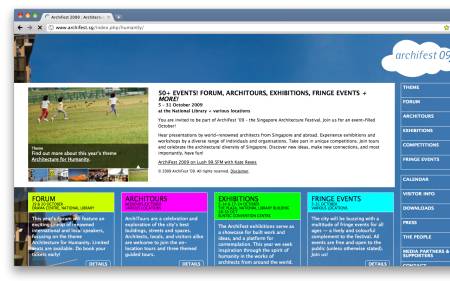 The website featured different backgrounds at different stages of the festival.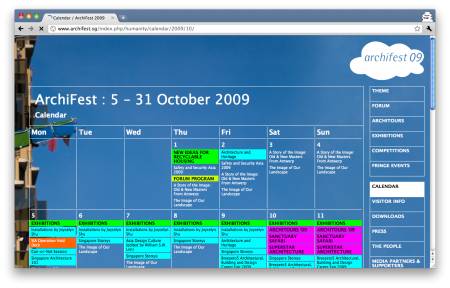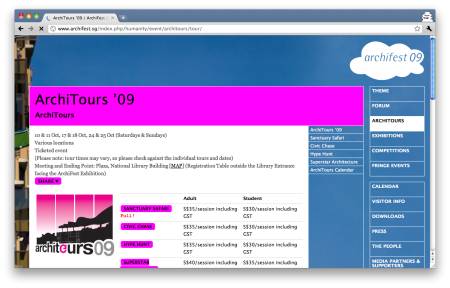 3 of 4.
Archifest 2010: Happy Cities
"Happy Cities" postulates a more refreshing way to benchmark quality built environments and sustainable urban settings.
Measuring happiness is hugely subjective. There are so many ways of measuring a cities? happiness: GNP, GDP, Happiness Indexes, etc. What we propose in our design is using the idea of measuring happiness as a starting point. There is a certain obsession with top 20 lists, indexes, and scores, with complicated formulas and theories, after which the cities are ranked. We represent the act of quantifying happiness with the act of measuring; the length of satisfaction, the weight of discontent, the heights of our bliss and the depth of our misery.
Initially, we used measuring instruments (measuring tapes, weighing scales, etc) as the graphic focus. We settled later on using visual representations of measurements instead; Bar Charts, Graphs, Venn Diagrams, as our graphic focus. The basic print colours of CMYK was chosen as the colour palette. When the visuals of the bar charts, and venn diagrams crossed over each other, different colours like green and purple resulted.
Visit 2010 Website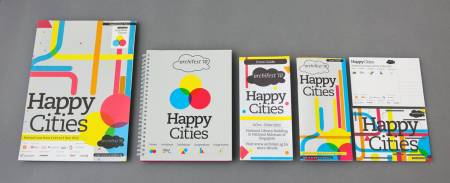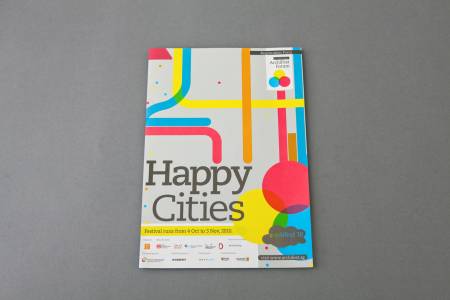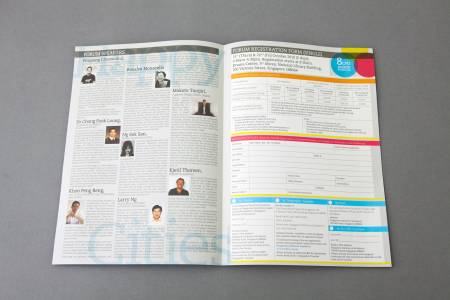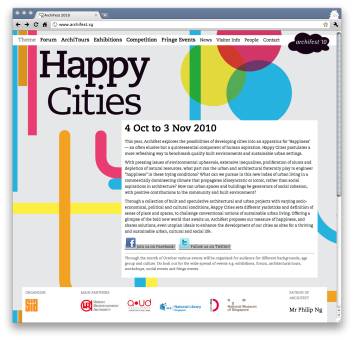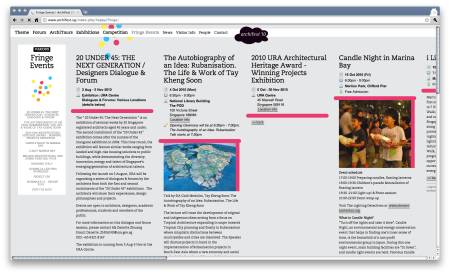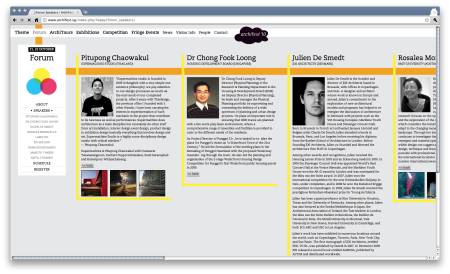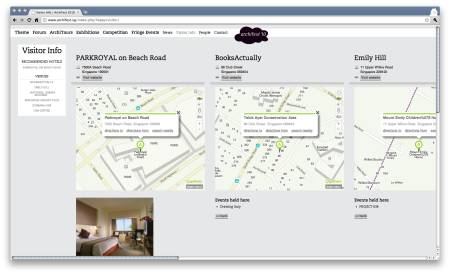 4 of 4.
Archifest 2012: Rethink Singapore
Visit 2012 Website